Over time we developed our specific way of working because it puts us in a condition to serve our clients better.
From the feedback we are getting it seems to work well for the right clients, but we understand we are not a right fit for every client.
On this page, we provide some information to help you understand if we are the right partner for you.
We can help you with Language Engineering.
We work on Language Engineering projects; we cannot help with other problems related to software development. We believe in doing one thing well and offering the best service in that field. This means saying no to other projects.
Typical Language Engineering projects include building parsers, interpreters, transpilers, compilers, and editors, design and implementing Domain Specific Languages.
You can take a look at our Services page to get a better understanding of what we do.
You may not have a clear idea of what you need to fall under the definition of Language Engineering or not: we can answer that for you.
At which stage are you?
Are you just collecting preliminary information and trying to figure out if a certain project would make sense?
Are you trying to get a better understanding of what is possible to present to your manager?
If this is the case, you can write to info@strumenta.com, as we are always interested in learning more about the problems we can help with using Language Engineering. We will start working on a proposal for you later when you are ready to move forward and the persons who can make a final decision are ready to be involved.
If instead, you have decided you need this project to be started, provided the right conditions are offered, then we will move forward with our discovery process and prepare a proposal for you. In this case, we suggest filling out the questionnaire.
I do not know if I can afford your services.
We work on different projects, and the cost for these projects vary significantly.
In a typical proposal, we offer several options at different price points (more about this below). In any case, the typical projects we work on range from 5,000 Euro to the high tens of thousands Euro. We tend to split larger projects in work packages that are typically below 50,000 Euros.
If you need us to create custom solutions for your and your budget is below 5,000 Euro this is probably not going to work out.
We could offer material, coaching and off-the-shelf solutions for well below 1,000 Euro (you can look at our products page for more details). While these solutions would require you to do some work, they could hopefully help you moving forward.
I need you to work at my offices.
Then we are not the right fit for you.
We serve clients worldwide, with most of our clients being based in North America and Europe and a significant minority being based in Asia.
Under specific circumstances, we can visit them for brainstorming sessions or training. However, these are exceptions, and in any case, the bulk of the development work is done by our own offices. We serve most of our clients working remotely from beginning to end. We have been doing this for years, and we know how to collaborate remotely.
Do you work with businesses of my size?
We have worked with single professionals and Fortune 500.
Our custom services are typically significant investments for single, successful professionals or small startups. However those were investments that made sense for these clients because they served a purpose for their businesses and for the clients that we stayed in contact with, we heard the ROI was positive. You can read some testimonials to get a better idea.
We worked with large multi-nationals businesses too, but we are not the right fit if your purchasing process is going to take 6-12 months, you get a purchasing department trying to squeeze concessions after concessions, or your legal team wants to go through three cycles of revisions.
Our ideal clients are mid-size businesses that can get things done and can invest in improving the way they work.
Ok, I am ready to take a decision, if I would like your proposal. How this will work?
We usually study a problem with a prospective client and craft a proposal for them.
This proposal is:
Based on fixed price
Contains (usually) several options
It is valid for 15 days
We prefer to work with fixed prices because we believe that we, as the experts, should assume the risks involved with the project. If something proves to be more difficult than expected for unforeseen reasons, that will be our problem. In this way, our clients can take a business decision knowing all the elements upfront. When working with fixed prices, we typically guarantee specific results. The exception is for those projects for which requirements are not easily defined up-front. For example, if you want us to design a DSL for you, you probably do not know yet which features this DSL should have. In those cases, we define other engagements that still have a fixed price but are more open-ended regarding the results.
They typically include several options so that you can pick the one which serves you best. Typically the difference lays in the level of guarantee we are going to offer or in the level of support. For example, when creating a parser, we could have a lower option guarantee it would work with a defined set of examples (chosen by you). A higher option could instead guarantee it would work according to some standard specifications. Or the support period, during which we will handle any issue for free, could vary from 30 days for a lower option to 6 months for a higher option.
Our proposals are valid for 15 days. After those 15 days are passed, we cannot guarantee you the same terms or a specific starting date. This is the case because we want to provide answers to our clients in a timely manner, and we cannot be tied up waiting for an answer about a proposal.
If we decide to work together, how is it working with you?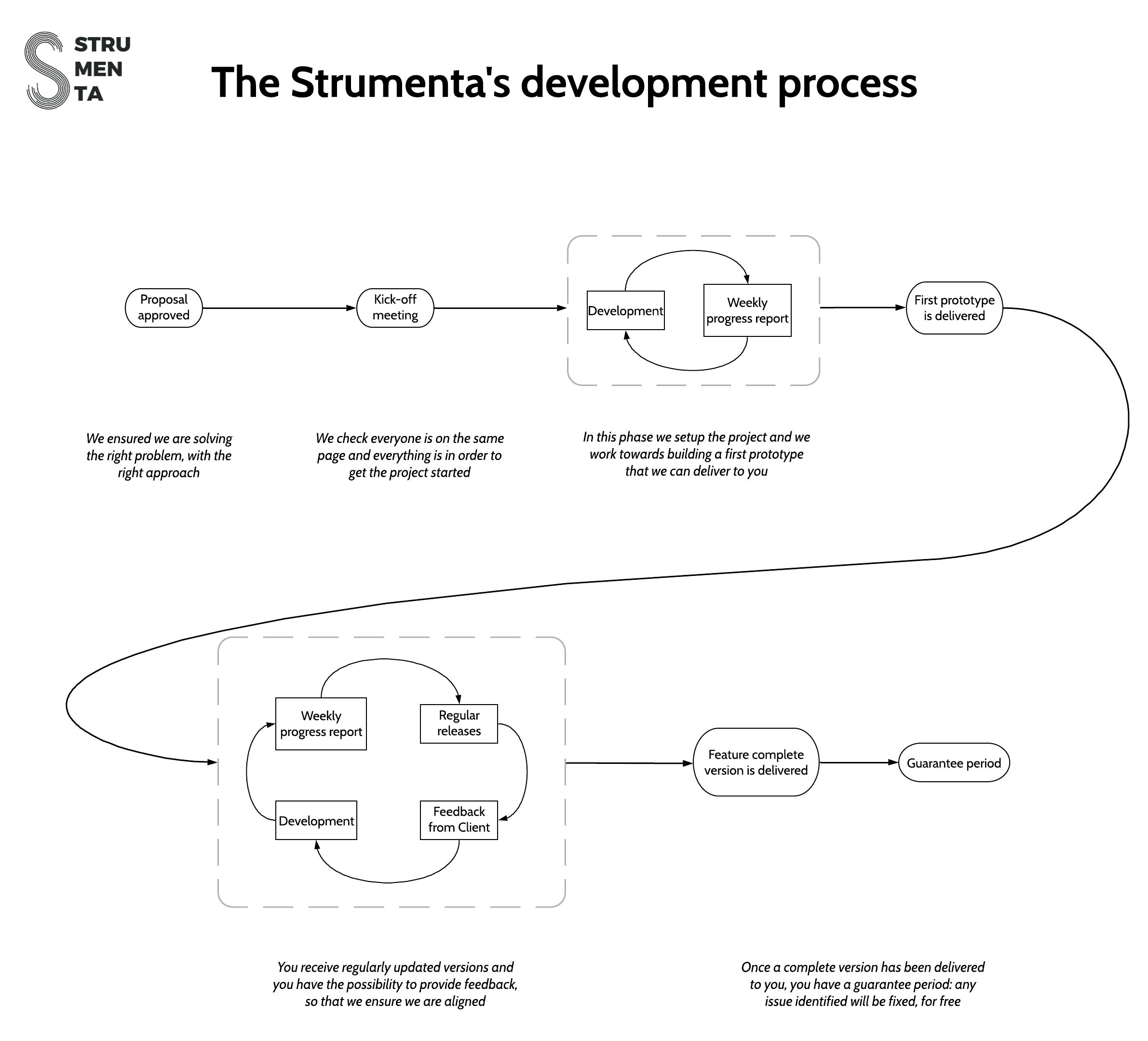 Ok, how can we get started discussing a collaboration?
You can: